Eleven unique 3x3 street football tournaments, in eleven European countries with thousands of talented street football players and a total prize pool of € 10 000. Anyone, regardless of age, gender, skill level or previous experience, can take part and compete for the title of best European street football team. Cherry on top of the cake will be additional unique international "Panna 1v1" and "Freestyle Football" tournaments.
"Ghetto Football Euro League 2022" will take place in eleven countries - Italy, Croatia, Hungary, Czech Republic, Belgium, the Netherlands, Denmark, Germany, Poland, Lithuania and will end with the most important tournament event, the final, in the capital of Latvia, Riga.

We will write the history of street football together:
April 16 - Rome
April 22 - Dakovo
​April 24 - Budapest​
​April 30 - Prague
​May 4 - Brussels
​May 7 - Amsterdam
​May 11 - Copenhagen
​May​ 14 - Berlin
​May 18 - Warsaw
May 21- Vilnius
June 8 - in Riga with "GHETTO FOOTBALL EURO LEAGUE 2022" final.
The competition will take place in three different groups - U15, 16+ and Lady, registering no more than 4 players in each team. The winners of the men's and women's groups of each tournament or "Grand Prix" will secure a place in the grand final in Riga, which will take place on June 8. If the winners of a particular tournament are a team from another country, then both the winners and the best local team will go to the final in Riga.
In each country, registration will be open three weeks before the start of the tournament and you can apply online at ghettofootball.net or ghetto.football. Registration for "Panna 1v1" and "Football Freestyle" will be possible separately.
The rules of the game, as well as the rules of the league can be found here - https://www.ghettogames.com/data/files/ghetto-football-euro-league-rules-v2.0-1.pdf
The project is supported by the European Union's Erasmus + Program.
---
"Medicines for Europe's Ghettos" initiative - using street sports as a "medicine" for disadvantaged urban areas

To promote street sports as "medicine" for less-advantaged areas and share experience on how to work with young people from different social classes through street sports. During 2018 and 2019 one of the largest street sports organizations in Europe established an international co-operation network for street sports and cultural activities organizers from all over the world.
Ghetto Games from Latvia, DGI from Denmark, Fryshuset from Sweden, Malta BMX from Malta and the Estonian Street Sports Federation are some of the largest and most active street sports organizations in Europe. These organizations have started a co-operation within the Erasmus+ Sports program in order to share experience and methods how to work with young people from different social backgrounds by involving them in street sports activities.
Online platform for street culture and sports

"Medicines for the Europe's Ghettos" have develop an online platform for street culture and sports organizations. The aim of this platform is to bring together activists from each separate organization using the developed platform. The platform will provide information about street sports organizations all over the world, an interactive map with available street sports facilities, events etc.

Guidelines for work with young people through street sports, conference and festival

During the project all partners have worked on guidelines for work with young people through street sports, as well as work on the street sports conference "Medicines for Europe's Ghettos" and involve young people from each participating country in the international street sports and culture festival "Ghetto Games Festival in Ventspils".
During the project "Medicines for Europes Ghettos", partners have provided an overview of the relevant and up to date situation in the field of youth engagement in various grassroots sports and overall healthy lifestyle, based on street sports and extreme sports activities. The activities of the project aim to reach, engage and study young people in disregarded areas, including different urban and slum areas in various cities, where high criminal rates are observed and in this regard, often labelled as "ghettos". The primary concentration areas of the observations are within Latvia, Estonia, Malta, Sweden and Denmark.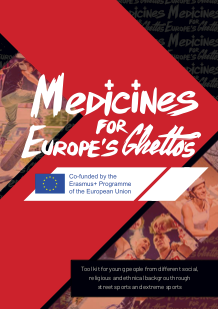 Here you can download - Tool kit for young people from different social, religious and ethnical backgrounds through street sports and extreme sports.
"The tool kit is perfect for any individual or organization without prior knowledge in the field of urban sports and action sports. It encompasses the necessary guidelines for organizing an event from the ground up, as well as shares valuable experience from youth organizations of various levels of competence and differing socioeconomic aspects. Considering the topic at hand - urban sports in the eyes of modern day youth - is not one with vast statistical data and successful research to back things up, this tool kit is great reading material for people looking to do work in the field or youth sports."
-Toms Silins
CEO at THE SPOT action sports center

The project is co-financed by the European Union - the "Erasmus+: Sport" program in particular. The content of the project is entirely the responsibility of its authors, and it does not reflect the official views of the European Commission and the Education, Audiovisual and Culture Executive Agency.